10 Best Waterproof Work Boots of 2021: Top Picks that Keeps Your Feet Comfy and Dry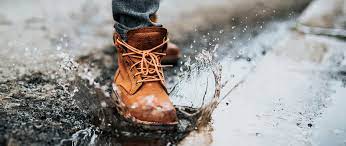 Rugged boots are an essential tool when you work on a site that requires heavy-duty operations and movements. The good thing about the Internet today is that it offers several products in a click dedicated to your needs and preferences. However, the tricky part is finding the most reliable and excellent shoes among the rest.
With these in mind, we reduced the time needed for researching the best waterproof work boots online. You'll find the top-rated waterproof shoes for men and women below. 
1. Timberland Men's White Ledge Mid Ankle Boot – Best Overall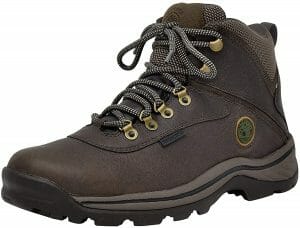 Timberland manufactures the best waterproof work boots in this round with its White Ledge Mid boots. This work boot model is available for men and women, but the construction of women's work boots is narrower. What you'll love about this item is its full-grain leather upper, waterproof work boot that most tradesmen and construction workers appreciate. It's also a great pair of work boots if you're into more fun and adventure, as these work boots are dedicated to outdoor use. It also comes with rustproof speed lace hardware that makes it more comfortable and reliable than the traditional lacing systems and eyelets.
Key features:
Seam-sealed waterproof work boots

Full-grain material leather

Wide sole at the forefoot

Comfortable padded collar

Dual-density EVA footbed
Design and Materials
Timberland White Ledge Mid work boots are made with full-grain textile with rubber soles that create comfort for your feet. It's designed with hikers and adventurous people in mind, making it a reliable and excellent pair of boots for men and women. It's finished with oiled-leather, featuring a lace-up vamp, D-hook, and rear pull loop.
Comfort and Breathability
You'll never have to question Timberland's work boots' comfort and breathability. Its EVA dual-density footbed and a padded collar keep your feet dry all day. Plus, the upper part of the leather is seam-sealed, which does an excellent job keeping water and moisture out. As for the support, Timberland White Ledge Mid embeds a pair of flex grooves, which promotes flexion on your forefoot. In simplest terms, these work boots bend naturally along with your foot while running, walking, or standing.
Convenience and Safety Measures
What makes Timberland White Ledge Mid the best waterproof work boots in this list is its traction and support features. The shoes' outsoles are made with rubber that implements multidirectional lugs for improved traction. It also features its very own BSFP system, an acronym for brake, support, flex, and propel. It's a revolutionary feature that most customers consider one of the strong points of these waterproof work boots.
Maintenance
Timberland White Ledge Mid is your go-to work boots if you're into gardening, hiking, or farming. As per Timberland, cleaning their leather work boots is a no-brainer. You'll only need a protective spray and a towel to wipe clean your shoes. For great results, Timberland recommends customers use their products for cleaning waterproof boots.
Pros
Lasts longer unlike other pair of work boots

Comfortable work boots anytime

Popular composite safety boots for construction workers

Great support and traction features
2. Columbia Men's Newton Ridge Plus Waterproof Hiking Boot Shoe – Best Quality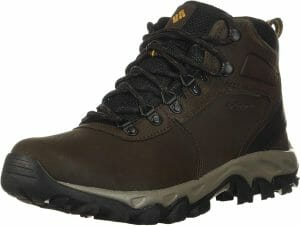 Another tremendous waterproof work boots for men on the list is the Columbia Newton Ridge Plus that's perfect for any adventure. It highlights advanced technology attributes that make this pair of boots lightweight and comfortable for extended use. What's more, men would definitely love the stylish look and design of the shoes' coated leather built for protection, style, and comfort. With its seam-sealed suede construction, you'll never have to worry about rain, mucks, and puddles that would get in your way. This is an excellent choice for hikers or adventurers who don't want to be dreaded with a "hiker's sock" at the end of the day, thanks to its breathable mesh tongue feature.
Key features:
PU-coated leather, suede, and mesh upper

Seam-sealed safety toes construction

Techlite EVA midsoles and Omni-grip rubber outsoles

Waterproof leather work boots
Design and Materials
Columbia Newton Ridge Plus combines superior cushioning and high-energy return for a more comfortable experience. It accents waterproof full-grain leather material and meshes boots construction that's dedicated to giving your feet a style even in harsh working or environmental conditions. These men's waterproof boots deliver a functional and versatile design with contrasting color combinations.
Comfort and Breathability
In terms of breathability, Columbia Newton Ridge Plus delivers. Its mesh tongue padding is durable enough, keeping your feet dry and clean even when it's raining. Besides, you'll appreciate its sure-footed design that provides a reliable cushion even when you're on your feet all day. These waterproof work boots are responsive and geared enough for miles over rocks, terrains, and roots.
Convenience and Safety Measures
This work boots model encompasses an adjustable lace-up closure that secures and fits your fit conveniently. Columbia Newton Ridge Plus uses a multi-terrain traction technology that gives you solid footing, even on dry or wet conditions or snowy surfaces. The insides of these work boots are spongy, giving your feet a cloud-like experience with its thick EVA foam.
Maintenance
Columbia suggests customers use a soft brush and a damp cloth when cleaning their waterproof work boots. For added protection, a waterproofing agent is needed to prevent leather boots from any moisture. Moreover, the manufacturer recommends not to clean leather work boots into a washing machine and to avoid drying the work boots from heat sources.
Pros
Customers perceived these work boots give them toe protection

Lightweight and durable construction

Keeps your feet dry

Features Omni Grip for traction
3. Caterpillar Men's Second Shift Work Boot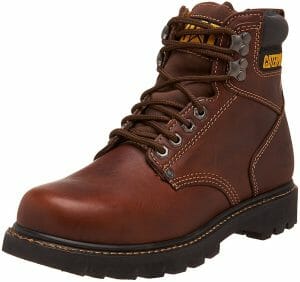 Caterpillar Men's Second Shift work boots wouldn't disappoint you when it comes to keeping water at bay. These waterproof work boots guarantee comfort and breathability features with their nylon-mesh lining. It eliminates any sweat and moisture buildup from standing on your feet all day. One of the strongest points of this Second Shift waterproof work boots is its unique climasphere socks, keeping your feet warm during cold seasons and cooling them on hot days.
Key features:
Electrical hazard-safety and slip-resistant construction

Soft toe or steel toe work boot

Steel-toes shank and rubber outsoles

Goodyear welt construction

Removable footbed and engineered nylon mesh lining
Design and Materials
If you're into aesthetics and style, the Caterpillar Men work boots are an excellent choice. It combines oiled full-grain, nubuck leather uppers that lets you use this pair of shoes for extended periods. What's more, the materials used passed the ASTM F2413-18 electrical hazard standards, protecting your feet against open circuits up to 14,000 volts. Lastly, it implements lace-up soft-toe work boot leather in hexagonal-shaped grommets for fast lacing.
Comfort and Breathability
You'll find Caterpillar Men waterproof work boots durable and flexible –thanks to its welt construction that delivers these features. It contains a steel shank and PVC midsole for more convenient use. It's a water-resistant toe boot that protects your toes against harsh conditions. Meanwhile, it has a slip-resistant rubber outsole and solid sole traction that secures your fit regardless of the surface.
Convenience and Safety Measures
Construction industries consider Caterpillar Men water-resistant work boots as among the recommended shoes at work. These boots handle everything professionally, as it's one of the best waterproof work boots that's dependable and durable. Plus, the materials used for these work boots' traction outsoles are oil-resistant, with nothing to worry about greasy surfaces at all.
Maintenance
To clean your Caterpillar work boots, you'll only need a soft brush bristle and a damp cloth to remove unwanted dirt. You should never expose these work boots to direct sunlight since they may damage the upper leather's overall aesthetics.
Pros
Features oil-resistant rubber outsole

Feels good and provides protection on the feet

Passes the electrical hazards standards

A waterproof work boot that lasts long

Keep the bottom dry and comfortable with these heavy-duty work boots
4. Skechers Men's Verdict Men's Boot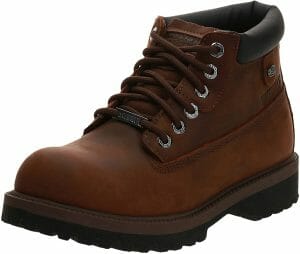 Rejoice if you're a great fan of Skechers! They provide one of the best waterproof work boots on the list that's highly applauded for breathability and convenience. It accents a cool, athletic design that makes it wearable on casual or work occasions. It's considered a heavy-duty waterproof boot that's made with smooth leather or oiled suede upper. These work boots' sides implement a seam-sealed midsole and rugged lug traction outsole for more fast footwork. The work boots also detail a lace-up closure and padded footbed.
Key features:
Air-cooled memory foam

Padded collar and tongue

Rubber lug traction and wear-resistant outsole

Relaxed athletic style and design
Design and Materials
The materials used in Skechers Verdict Men waterproof work boots are durable and long-lasting. The midsoles incorporate a steel shank for added comfort and support. Simultaneously, the upper is layered with high-quality leather or suede, making the work boots easy to clean. Another excellent touch to these boots is the padded collar and tongue for stability. Besides, the six-eye lace lets you adjust the fit on you conveniently.
Comfort and Breathability
The construction of this toe work boots model is reinforced well, and there's no sign of a steel toe cap. Since it doesn't come with a steel toe cap, you may need to find a particular feature for extra safety. Nevertheless, the boots' flexes make up for it because it gives your arches good support regardless of the season.
Convenience and Safety Measures
Skechers Verdict waterproof boots are best worn when riding or standing for extended periods, especially on winter days. It features cooling memory foam pads that keep your toes warm, waterproof, and comfortable. You won't even notice you're wearing these shoes for a long time since the foam-cushioned footbed sinks your feet into comfort. The good thing about these foams is that they're removable, which provides you with more room to breathe.
Maintenance
The same cleaning process applies to Skechers work boots. To make these waterproof boots last longer, apply a spray to clean. Skechers recommends using their Athletic Cleanser gel to keep the upper leather material supple. Never use a washing machine to clean these leather shoes.
Pros
Great toe work boots for men and women

These boots keep your feet dry and warm

Waterproof and water-resistant features

One of the best work boots when it comes to style

Comes with high-quality leather material
Cons
Issues with sizes and shipping
5. Skechers Men's Relment Pelmo Chukla Waterproof Boot – Best Value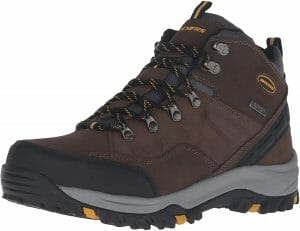 Another Skechers-manufactured water-resistant work boots are the Relment Pelmo Chukka in five available colors: grey, khaki, brown, khaki suede, and blue navy. Regardless of the color chosen, you'll get a pair of high-quality synthetic soles that provides comfort on your toes and heels. Thanks to its relaxed-fit memory foam, you won't even notice you're at your feet for hours. You'll also appreciate its notable features, including the style in seam-sealed waterproof protection that you deserve.
Key features:
Premium-quality waterproof leather materials

Synthetic soles

Sturdy traction and support

Underfoot comfort
Design and Materials
Skechers Relment Pelmo Chukla waterproof boot guarantees your comfort with its memory foam insoles. Besides, its seam-sealed construction and leather material serve the protection your toes need against water during rainy seasons. What you'll appreciate the most is it keeps your feet dry in-shoe environment. Meanwhile, the padded tongue and collar accents a soft fabric mesh lining to keep your toes cozy. The stitch design embossed detailed accents, added with lacing hardware with metal rings and top hooks.
Comfort and Breathability
Skechers work boot runs true to size, so make sure you're getting the size that best fits your feet. Moreover, Skechers offers a hard-wearing sport suede upper, giving you the swag and style even when working in harsh conditions. With that being said, it protects your feet against wet encounters. 
Convenience and Safety Measures
Skechers Relment Pelmo Chukla promises comfy and safety features with its rubber outsole and cushioned midsole. Further, you'll find greasy terrains easy to groove at with the outsole's flexible attributes. It delivers ground and a tight grip that keeps your feet secure during ascents and descents. Nevertheless, the cushioned memory foam yields comfort, perfect for absorbing shocks.
Maintenance
Skechers doesn't recommend the use of a washing machine in cleaning purchased shoes. To remove excess dirt, a small brush or towel can do the trick. Simply use a warm soapy mixture, dip the brush or the cloth, and wipe down the affected area. Toe work boots shouldn't be dried under the sun.
Pros
Comfortable toe work boots for hiking

Satisfying watertight and waterproof work boots

True-to-size fit

Keeps feet warm during the winter season
Cons
Heavy compared to other toe work boots
6. Timberland PRO Men's Boondock – Best Splurge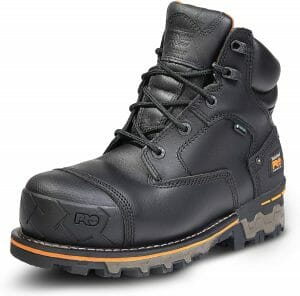 Another Timberland-manufactured composite safety toe waterproof work boots on the list are the Boondock work boot. Against the listed waterproof boots in this round, Timberland Pro Men waterproof steel-toe boots feature anti-fatigue technology. It eliminates shocks and returning the energy back to the foot while walking or standing for hours. It's also an excellent oil, abrasion, and slip-resistant boots that let you do the optimal performance on the job all day long. You'll also find its waterproof membrane that guarantees extra protection against moisture when you are working. Plus, this model accents insulated work boots that make sure your feet are warm even in wet conditions.
Key features:
Waterproof insulated work boots

Features anti-fatigue technology

Waterproof membrane and leather materials

Rugged boots
Design and Materials
The leather used in these waterproof boots keeps water at bay. It remains your toes' convenience and breathability along the way. Its dual-density midsole gives additional protection for your feet in eliminating moisture and nasty stuff buildup. Besides, the materials guarantee durability and strength, ensuring the waterproof safety toe boots last longer.
Comfort and Breathability
Timberland Pro Men safety toes boots offer a shock-absorbent geometrical technology feature that gives the energy back to your foot, so wearing these waterproof work boots would be bearable even when used longer. Since Timberland has been in the market for over decades, it promises ultimate protection, durability, and comfort even in the most demanding environments.
Convenience and Safety Measures
Timberland Pro Men is built with passionate workers in mind. With this mentioned, the waterproof boot encompasses a lightweight design that doesn't fall short in terms of safety and protection. It stands up to the rigors of the site, thanks to its slip and oil-resistant soles. Nonetheless, the outsoles contain deep lugs that secure your grip to every floor surface safely.
Maintenance
As per Timberland, cleaning their leather work boots isn't tricky. You'll only need a protective spray, a towel, and a wipe to clean your shoes. For great results, Timberland recommends customers to use their products for cleaning Timberland Pro Men waterproof boots, like their Waximum Waxed Leather Protector.
Pros
An excellent composite toe work boot for workers

Safety toe work boots with a waterproof membrane

Accents TPU outsole and deep lug traction
7. Irish Setter Men's Work Boot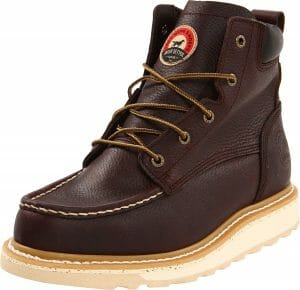 Irish Setter Aluminum toe work boot is listed as one of the best waterproof boots for a reason. This model is mainly designed with adventurous people in mind, especially those who stand on concrete, rocky, or unsteady surfaces. It's made with USA-quality full-grain leather that marries density EVA footbed for water-resistant protection in slippery environments. Although this boot is considered a soft toe boot, it doesn't fall short in safety principles. Irish Setter toe work boot meets the ASTM F2413-11 M electrical hazard safety standards, making it an ideal work boot in workplaces that contain electrical components or shocks.
Key features:
Protective soles and reliable heel construction

Heat-resistant features

Non-woven nylon
Design and Materials
The Irish Setter waterproof work boot features aluminum toe work boots and toe caps with Moc protective leather on the boot's outer part. What you'll appreciate about these waterproof boots is that they're not heavy, making them easier to wear all day long with maximum comfort. The leather uppers make the toe work boots more snug and cozy to wear, wherein the thick rubber sole eliminates shock from walking and standing.
Comfort and Breathability
This specific model guarantees your toes' warm feeling right out of the box. Even after wearing these waterproof soft toe boots the entire day, you'll feel the cushion and leather softens up comfortably. Another good thing is that the EVA-cushioned midsole and removable footbed make the boot easier to take in and off. The padded collar and tongue provide protection against your feet rubbing on the leather.
Convenience and Safety Measures
Irish Setter passed the  ASTM F2413-11 M electrical hazard safety standards, which means they're safe to use even in workplaces exposed to circuits and electricity. What's more, its heat-resistant outsole can withstand melting at a minimum of 475 Fahrenheit.
Maintenance
To maintain your Irish Setter's clean, use lukewarm water, spray on parts that require cleaning, and wipe the dirt. Let the work boots dry naturally.
Pros
One of the best well-constructed waterproof soft toe boots

Extra thick wedge soles

Contains removable footbed

Nicely fit and lightweight
Cons
Lacks support in the ankle area
8. Wolverine Men's Overpass Composite Toe Waterproof Work Boot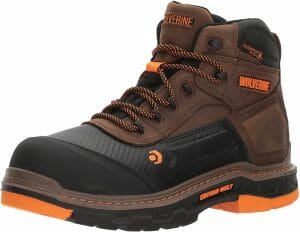 Wolverine understands workers who require constant movement with its Overpass composite toe work boot. Its welt construction technology provides your feet with more flexible moves and enhanced performance, withstanding any harsh conditions in the environment. What's more, Wolverine composite toe waterproof boot is lightweight but doesn't lack when it comes to protection, durability, and reliability. In fact, these composite toes are slip, oil, water, and abrasion-resistant for added stability even on rugged surfaces. Lastly, it comes with an advanced comfort PU midsole and moisture-wicking mesh lining that keeps feet dry all the time.
Key features:
Flexible contour welt technology

Premium waterproof leather

Removable Ortholite footbed

Chemical-resistant outsole
Design and Materials
Wolverine waterproof boot is made with premium-quality waterproof leather that provides protection against abrasions and toxic chemicals. Inside you'll find a removable Ortholite cushion footbed, giving your feet their much-deserved comfort while working for extended periods. Besides, the footbed features shock-absorbent technology designed to keep your foot relaxed. Even though these boots have a sturdy construction, they're flexible enough and naturally bend along your feet movements.
Comfort and Breathability
Wolverine is the best waterproof boot to consider if you're into the more lightweight side of boots. Yet, Wolverine boots' delicate features don't affect their safety and fit attributes. In terms of breathability, these boots deliver. The manufacturer uses a breathable membrane that allows air circulation while maintaining your feet dry and well-ventilated.
Convenience and Safety Measures
Wolverine composite toe boots meet the ASTM F2413-11 M standards, which implies they're safe to use against harsh materials and chemicals in the environment. While it offers much protection against the worst conditions, these waterproof shoes protect your ankles from impacts. The outsole contains deep traction lugs, so you're ready to go on any adventure or work.
Maintenance
Wolverine suggests removing the laces first before cleaning the waterproof shoes. Using a damp cloth, wipe off the dirt from the upper leather and outsoles. Treating the shoes with wax or polish can do the trick as well. Wolverine work shoes will last longer if treated right.
Pros
Comfort feels like Cadillac quality

Wick moisture feature keeps feet odor-free

Durable and long-lasting to use
Cons
Some customers don't like the Ortholite inserts
9. Wolverine Men's Floorhand Waterproof Soft Toe Work Shoe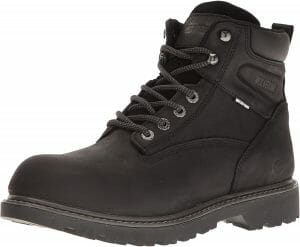 Wolverine never fails to offer another waterproof work shoe that has your back even on sloppy surfaces. With its soft toe boots, you'll get a full-grain leather upper that keeps feet dry in wet environments. You'll also appreciate how its slip-resistant rugged soles save you from slippery conditions. Wolverine adds a cushioned footbed that lets you withstand the demanding movements at work to give your feet the comfort they deserve. Nevertheless, Wolverine work shoes come in three available colors: black, dark brown, and wheat.
Key features:
Slip-resistant rubber soles

Waterproof upper leather material

Lightweight cement construction

Non-marking light-colored soles

Weather-ready performance shoes
Design and Materials
Wolverine soft toe shoes provide more comfortable features compared to steel toe work shoes. You'll find the style and aesthetics appealing with its waterproof construction leather. Besides, it accents a nylon shank that lends lightweight protection and stability regardless of the surfaces you're onto.
Comfort and Breathability
You'll find a removable and full-cushioned footbed inside, plus a rubber midsole that guarantees a snug and cozy feeling for your toes and heels. What's more, these shoes have wide widths, which customers consider the greatest point of the Wolverine Floorhand waterproof shoe model.
Convenience and Safety Measures
These work shoes encompass durable and reliable leather material construction, a protective steel toe, and rubber outsoles designed to keep feet safe during working hours. Similar to other Wolverine-manufactured work shoes, the Floorhand steel toe meets the ASTM F2413-11 M standards. Although these shoes are lightweight, it secures your feet with its cement-constructed uppers.
Maintenance
Maintaining your waterproof leather shoes would be the same as the previously mentioned in this list. Using a damp cloth or a soft brush, wipe the excess dirt on the boots in a light manner. Wolverine suggests letting these shoes air dry entirely rather than letting them dry under the sun's heat. If done correctly. Wolverine Floorhand work shoes can last for years of use.
Pros
Looks and feels great

Keeps the feet warm and snug

Embeds wide width, which previous customers applaud

Lasts longer compared to other waterproof work shoes
Cons
Lacks an arch support system
10. Caterpillar Men's Threshold Waterproof Industrial Boot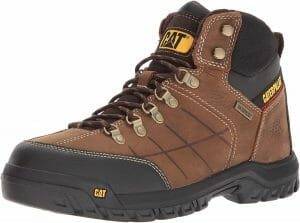 Caterpillar Threshold model made it to the list of the best waterproof shoes, thanks to its ergonomic midsoles that give the comfort you need while on duty. This model has two available colors you can choose from (black and brown) that add aesthetic and style. The seam-sealed construction adds to the boots' effectiveness in keeping your toes warm and dry despite the harsh conditions. What's more, the padded collar soothes your ankle, letting you stand on your feet all day long.
Key features:
ASTM F2413-05 passer

Made at GoldRated Tanneries (LWG)

Treaded outsoles

Cushioned footbed
Design and Materials
Caterpillar Threshold waterproof shoes implement a lace design that allows you to tighten the boots' secure fit according to your preference. For added aesthetics, these shoes contain gold-tone grommets, contrast stitching, and mesh panels while delivering outstanding performance to your foot's bottom.
Comfort and Breathability
The Threshold model encompasses a padded collar that gives a soothing feeling to your ankle for added comfort. It gives you a lighter feel despite standing for hours. Additionally, you'll find the cushioned footbed a convenient way to relax your toes and heels against pressure.
Convenience and Safety Measures
Caterpillar Threshold shoes contain a rubber sole that marries slip and oil-resistant materials. This material provides secure grip and traction when walking or running on slippery floors or uneven terrains. Nonetheless, customers love its sizing and comfort reliability when ordering online.
Maintenance
Caterpillar recommends customers clean their waterproof shoes regularly to avoid dirt buildup. Remove the insole and laces first. Using a soft brush and warm soapy water, brush the dirt away and rinse the soap off. Let the shoes dry at room temperature and never expose them to direct sunlight.
Pros
Exceeds ASTM standards for grip and traction

Meets electrical hazard protection

Durable, protective, and abrasion-resistant uppers

Embeds flexible and ergonomic midsole for more comfort
Cons
Not flexible enough for some