Best Police Boots: Sturdy Yet Comfortable Tactical Shoes for Army Work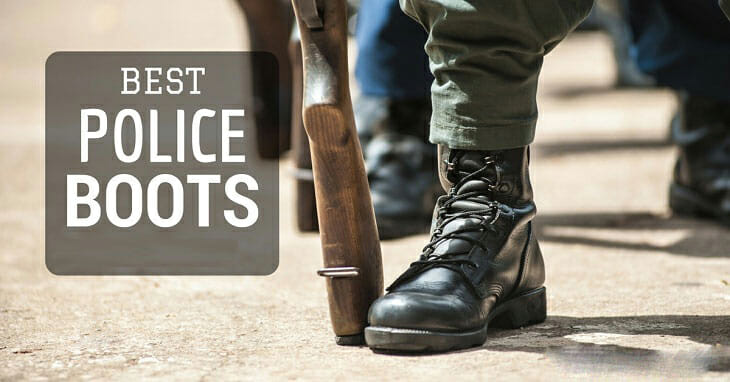 Working in law enforcement isn't an easy task. Police officers and military men need to gear themselves with the best mechanism to ensure public safety. Specifically, the work requires putting yourself in risky situations; you may need a tactical boot that's durable and sturdy enough to protect your feet against debris and chaffs.
Law enforcement mainly emphasizes durable footwear because policemen need to take action without restrictions on their movements. Further, you must find the best tactical boots that cater to your challenging assignments regardless of your environment.
You can find the best police boots the market can offer in this article. The recommended boots feature exceptional quality that made it to our list. Below you'll find the additional information you need to know before buying the best pair of boots for any police officer.
What Types of Boots Do Cops Wear?
Cops, patrol officers, and military men's work changes every single day. You don't have any idea where you'll go and the risks associated with every activity. Thus, you need perfect tactical boots that deliver the utmost comfort and support to your feet for improved performance.
The most common type of boots that cops wear is heavy-duty boots, also known as tactical shoes. These pairs are engineered to handle even the harshest situations, providing excellence in risky environments. Although made with premium-quality materials, boots shouldn't compromise the comfort you need when walking, standing, or running for hours.
Elements of a Tactical Boot You Need to Consider
Not all tactical shoes are made the same way. Yet, below are the must-have components you need to consider before buying your tactical boot.
Tongue. One of the essential elements you'll find in a tactical boot is the tongue, which offers additional protection on your ankles and shin against the boot's laces.
Collar and pull loop. You'll see a collar at the top edge of the boot, sometimes featuring a small pull loop for easy removal when you have thick socks.
Upper cover. Tactical boots for police must have a sturdy upper body, protecting the sides, top, and back of your feet against debris.
Toecap and rand. The more sturdy the toecap and rand, the more protection it gives to your toes. Yet, they should be flexible enough for you to move.
Insoles and outsoles. Insoles are located inside a tactical boot where your foot's bottom rests. Meanwhile, the outsole directly contacts the surface. Make sure your tactical boots have excellent grip and traction features.
Lugs. Lugs are indented patterns found in the outsoles that promote stability and grip.
What to Look For in the Best Tactical Boots?
Buying a tactical boot doesn't end in checking the must-have components. Ensure that your boots have the following features as well:
Material used. You should never set for anything less when it comes to finding the right pair of boots for heavy work. Materials used for creating tactical shoes play essential roles in protecting your feet from damages and harmful agents.
Side zipper or laces. One of the best features of a great tactical boot is a side zip and sturdy laces. Zippers allow faster transition in taking your shoes on and off at any moment. Meanwhile, good laces should be adjustable enough to give your feet the perfect fit it needs to move effortlessly.
Breathability and stability. Odor-causing bacteria typically form in areas where there's no room for escaping moisture. Make sure you observe the breathability of the materials used when buying a tactical shoe.
Slip-resistance. Aside from breathability, consider a tactical boot that can resist any surface with the help of excellent rubber outsoles and lugs.
Water-resistant materials. Policemen often end up subjected to different weather conditions. Thus, a water-resistant boot would be effective against bodies of water. No one wants to have soggy socks!
Shock absorption. Last but not least, make sure your boot can absorb shocks. This feature creates a significant difference if you're standing, walking, or running for extended periods.
Finding the Perfect Fit for Tactical Boots
Besides understanding the elements and features, you'll need to know your perfect fit before buying a tactical boot. Here are our friendly reminders when fitting one:
Ensure you wear socks before purchasing a safety boot. This allows any unwanted space or room that can affect your boot's fit.
Make enough room for your feet to guarantee air is flowing freely. The boot must never be too secure or tight.
Check the boot if it accents a moist-wicking texture to keep your feet dry at all times.
Top 6 Best Tactical Boots Recommended for Police Force
Now that you've understood the essential elements and features that a police boot should offer, here are our top picks of the best tactical boots for police. Not only are they lightweight and comfortable, but also sturdy enough to help you deal with the riskiest situations in public.
1. Bates Men's GX-8 Gore-Tex Waterproof Side Zip Boot – Best Overall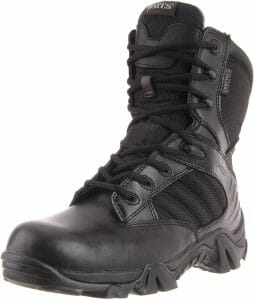 Look no further with the best tactical boots in the market. Bates Men's GX-8 Gore-Tex features a waterproof side zip designed with hardworking law enforcers in mind. Great thanks to its full-grain leather that's breathable and lightweight –these shoes protect your feet even when you're on a constant move. Not only police and military men would appreciate this, but also runners, hikers, and bikers. You'll definitely love its tactical and slip-resistant outsoles, helping you deliver the best performance in the worst weather conditions. It has improved high-quality leather uppers with its enhanced ballistic nylon ideal for supporting your insoles. Bates company designed these duty boots for heavy workloads and ensured the utmost protection and comfort for your feet.
Key features:
Water-resistant and tactical outsoles

YKK side zipper (for easy on and off)

Breathable Gore-Tex membrane

Lightweight and flexible

Removable EVA midsoles

Ballistic nylon feature
Design and Materials
Bates Men GX-8 isn't your ordinary boots. It's designed explicitly with waterproof leather construction to safeguard your feet against harsh elements. You don't need to worry about walking or standing for hours. These tactical boots got your back with its lightweight materials that weigh only 3 pounds. Plus, Bates Men boots use non-metallic construction that goes undetectable in electronically-secured work environments.
Comfort and Breathability
You'll find Bates Men's pair of boots dry and comfortable to use despite extended working periods. These police boots come with a moisture-wicking lining that allows moisture to escape from your shoes. If you need additional support for your cup and heel, these shoes provide enough room for midsoles and custom orthotics –the best feature you can get from this footwear. Complete any task assigned to you in no time with the help of these boots.
Convenience and Safety Features
Another characteristic that makes Bates Men's GX-8 the best tactical boots on the list is its side zip. It accents the YKK side zipper making it easier for you to wear your shoes on and off at any moment. These work boots passed the SATRA WTM test, which means it has a slip-resistant outsole for outstanding grip and traction. The overall effectiveness of these boots is competent enough that no other footwear companies can beat.
Maintenance
For leather shoes, Bates company advises wearers to clean footwear regularly. Removing the laces would be the first step, then use a cloth to remove dirt. Allow to air dry; stuffing the uppers with paper can help speed up the drying process. Purchasing a quality footwear polish helps nourish the leather material and preserve its natural shine.
Pros
Provides the best tactical boots for wearers

Secures feet's protection against slippery surfaces

Contains a rubber outsole for added traction

Gives a lightweight feeling

Durable and comfortable to wear

The best tactical boot for people with plantar fasciitis
Cons
Makes a squeaking sound if used
2. Belleville Tactical Research Khyber Boots – Best Quality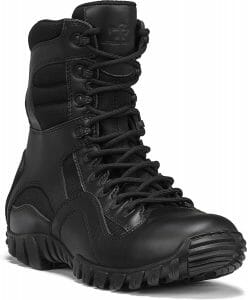 One of the brands that make quality footwear is Belleville Shoe Manufacturing company. This company creates boots ergonomically made for law enforcement workers, such as policemen and military workers. It made a partnership with the U.S. military in 1915 and provided high-quality tactical boots ever since. Belleville Tactical Research is lightweight, making the work conditions bearable even when you're standing for hours. The strength comes with its 100% cattle hide leather, assuring your feet are safe against harsh elements. It features a side zipper that makes these shoes easy to wear and remove. Plus, it delivers excellent traction and gripping ability –best for terrain works and similar situations.
Key features:
Cattle hide leather and nylon

Shock-absorbent and rugged outsoles

Certified oil, petrol, and lubricant-resistant

Lightweight and breathable

Rock-hard leather uppers

Aggressive lace-to-toe style
Design and Materials
Police officers would appreciate Belleville's pair of tactical boots designed for stationary standing and continuous foot movement. These work boots are made with 100% cowhide leather plus abrasion-resistant nylon and leather suitable for a wide range of conditions. Belleville Shoe produces boots with cutting-edge technology that creates a formidable barrier with its durable exteriors and outsoles.
Comfort and Breathability
Keep your feet dry and comfortable with these police boots' Gore-Tex coating. It accents sharp, angled lugs that improves your boots' traction to any surface. What's more, it blocks water from penetrating your shoes' insoles and provides room for perspiring water vapor. These shoes consider low-profile outsoles, perfect for enhancing your stability and mobility while running or walking.
Convenience and Safety Features
These boots come with TR1-high performance and orthotic inserts to provide heel and arch support. In terms of safety features, Belleville Tactical Research passes the ASTM. It highlights rubber and foam composite toe for pressure and shock absorption. You'll also value its air mesh lining texture and moisture-wicking lining that prevents odor, sweat, and perspiration from accumulating.
Maintenance
Boots require regular cleaning to keep its natural form and durability. Good thing, Belleville's tactical boots are easy to clean. You'll need a brush with soft bristles, warm water, and mild detergent to remove dirt. Gently scrub the leather and nylon and dry air boots naturally in a temperate room environment. Most importantly, avoid shoe polish because it can damage the tactical boot.
Pros
Provides light and comfortable feeling

Gives a breathable room for feet

Features rugged Vibram on outsoles

Accents cowhide materials

Has orthotic insoles for increased comfort
Cons
The side zip isn't durable as Bates; prone to breakage
3. Danner Men's Acadia 8" Boot – Best for Men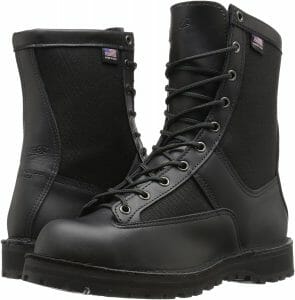 Men could never go wrong with Danner Men tactical boots. It's manufactured with delicate technology to provide only the best boots that law enforcers, military, and patrolmen can use during their work hours. It specifically combines full-grain leather and nylon upper for enhanced durability. Plus, you'll definitely love this boot's style that can bear any surface and condition. Danner Men tactical boots also accent Gore-Tex on its lining, featuring a waterproof seal. Though it's sealed, these boots allow sweat to perspire and escape. Danner company's pair of tactical boots come with its iconic 360-degree stitches so you can flaunt your boots with style and comfort. A complete package for every police officer out there!
Key features:
Made with 100% leather and Cordura

Contains Vibram sole

Breathable full-grain leather

Superior grip and traction
Design and Materials
Law enforcement has trusted Danner footwear company since 1932. Police officers and military men particularly love the tactical boots' premium-grade quality footwear. It blends durability and elegance –thanks to its attributes that are on full display. Danner Men shoes give an impression that they're wearable and can last longer than tactical boots in the market. Need to cover a demanding assignment on duty? Danner Men boots got your back!
Comfort and Breathability
If you're impressed with the boots' top-quality materials, you'll also like its comfort and breathability features. You can't even determine you're wearing boots; the cushion makes you feel like you're wearing sneakers. Besides, the tactical boot keeps your feet dry with its stitch down method for a more spacious room. You don't need to sacrifice flexibility with pain with the help of these police boots.
Convenience and Safety Features
Investing in this pair of boots is definitely worth the price. Aside from the idea that these duty boots can serve you many years, you can find great convenience with its attributes. It presents snug-fit anatomical structures that keep your feet in place. Increased flexibility and stability is experienced with these excellent tactical boots despite extreme surfaces and conditions.
Maintenance
Danner never failed to provide support to customers in terms of cleaning leather boots. The company states that a sponge or wet rag can help remove the boot's dirt or mud. You can also buy their dedicated cleaner for their work boots, which helps remove grime and oil-based particles unobserved by the eyes. Carefully rinse the boots with tap water and air dry thoroughly before using again. 
Pros
Excellent traction and grip

Features an improved construction for durability

Offers a perfect and secure fit

Made with abrasion-resistant shaft
4. Maelstrom Women's TAC Force 8" Military Boots – Best for Women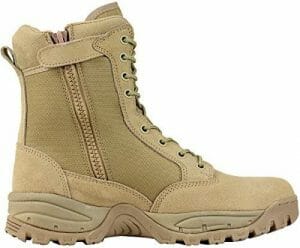 Policewomen can be stylish too! Women in law enforcement love to have tactical boots that would provide support and protection for their feet, especially when required to work for long hours. Behold this Maelstrom Tac Force specifically designed with courageous women in mind. Maelstrom Footwear ensures the best tactical boots for women are made with nylon and leather materials. These police boots come with a YKK side zip, making it easier for you to take the boot on and off. They're waterproof as well to keep your feet dry even in the most challenging times. This pair of boots wouldn't let you down; it's made with shock-absorbing and lightweight materials.
Key features:
Water-resistant cowhide leather

Slip-resistant rubber outsoles

Leather and nylon uppers

Cutting-edge athletic technology

Semi-rigid heel and arch support
Design and Materials
Maelstrom Footwear is one of the professional tactical boot manufacturers that produces uniform footwear for men and women. These police boots feature superb craftsmanship that distinguishes them against the competitors. They're made with full-grain leather and dense rubber outsoles, giving you the best resilience against foreign objects. What makes it more distinct from competitors is that Maelstrom military boots use iH20-tex technology instead of Gore-Tex. 
Comfort and Breathability
Maelstrom Footwear never failed to give the best comfort to its customers when it comes to police boots. Aside from the fact that they're subtle and delicate, they come with shock-absorbing insoles and midsoles. So when you have to face a more demanding task, these police boots provide the maximum support you need.
Convenience and Safety Features
Maelstrom Footwear is globally known for its unique and aggressive tread pattern. Note that they aren't your standard patterns: they provide additional safety for your feet in resisting damp surfaces. Additionally, you'll find that these police boots have a midsole unit that's resting on the top, guaranteeing you a more enhanced grip and traction when you're working on risky terrains.
Maintenance
Police boots are vulnerable to wear and tear, especially when you're wearing them every day. To prevent premature damage, Maelstrom Footwear recommends customers four ways to keep their tactical boots longer: cleaning, polishing, weatherproofing, and avoiding heat. These are important treatments in keeping your military boots' appearance and durability.
Pros
Comes with a durable and flexible rubber outsole

Minimizes occurrences of foot fatigue

Comes with sturdy construction for your feet

Provides exceptional comfort for women at work
5. Under Armour Men's Stellar Tactical Boots – Best Value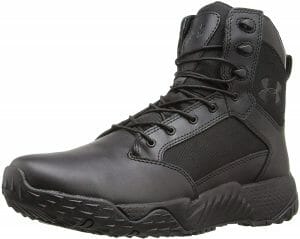 You could never go wrong with Under Armour Men's Stellar tac force boots designed to handle the harshest weather conditions. Although it's cheaper than its competitors in the market, it doesn't fall short in durability, breathability, and comfort that it gives to your feet. You'll also get to experience its premium DWR-treated leather enhanced with 900D nylon. It's one of the best police boots offered in the market as it provides comfortable covers against sheathing issues. The bonus part? It delivers quality tactical boots for police because of its EVA midsoles and TPU shank. Overall greatness offered at the lowest value.
Key features:
Molded EVA midsole with reinforced TPU shank

Ortholite sock liner

DWR-treated leather

Made with 900D nylon textile upper
Design and Materials
Under Armour manufactures tactical boots with hardworking people in the military and the public in mind. Unlike the materials that competitors use in this list, Under Armour emphasizes DWR-treated leather for creating excellent tactical boots' quality, allowing wearers' outstanding performance during demanding tasks in the field. What's more, you'll love Under Armour's Stellar tactical boots that protect your feet exceptionally–all because of the ankle-high shaft design.
Comfort and Breathability
Under Armour is well-known for delivering one of the best tactical boots for police officers and law enforcers in the community. It uses an anti-odor and ortholite sock liner technology to prevent the growth of odor-causing bacteria. Thus, you'll never have to worry about keeping your feet with these boots all day and night.
Convenience and Safety Features
In terms of function and support, this Stellar pair of tactical boots always deliver. It has robust exterior outsoles that make it a great power armor while chasing the bad guys. Besides, it comes with a TPU shank feature for an extra sense of security. These boots are waterproof and give you excellent grip and traction even when running on slippery surfaces.
Maintenance
To maintain Under Armour tactical boots, you may need a dry brush, mild detergent, and warm water. These materials help remove excess dirt and mud from running or walking on soiled areas. The footwear company also advises customers not to use household cleaners, such as 409 or Fantastic, to keep the boots' appearance and sturdiness. Avoid submerging the boots in water as well.
Pros
Features antimicrobial and ortholite sock liner for delicate feet

Provides plenty of security features

One of the best lightweight police boots

Helps prevent the build-up of odor
Cons
Taking and removing boots might be challenging
6. Smith and Wesson Breach 2.0 Tactical Boots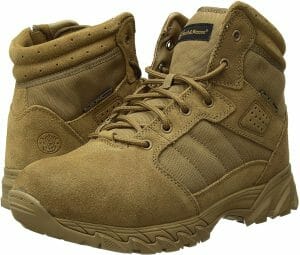 Like Under Armour, Smith and Wesson offer an excellent pair of boots at a reasonable price, but that doesn't mean it lacks incredible features! In fact, Smith and Wesson are one of the footwear companies that aid police work by providing efficient tactical boots they can use while on duty. It gives you comfort and support despite long hours of wearing this pair. Despite the price, the boot guarantees the most durable construction to protect your feet against vulnerabilities. These boots also come with a more resilient attribute added with rigid features. Never worry about foot fatigue anymore since it's one of the best tactical boots that incorporate EVA midsole for foam padding.
Key features:
HydroGuard waterproofing

Board-lasted construction

Eva midsole and gusseted tongue

Slip-resistant rubber outsole
Design and Materials
What makes Smith and Wesson Breach 2.0 tactical boots a part of the list is its torsional rigidity designed to last a lifetime. It explicitly highlights a boarded construction without even compromising your comfort. Law enforcement and military officers would love this boot's tough gusseted tongue, which keeps dirt and debris out of the boot.
Comfort and Breathability
Smith and Wesson's footwear is among the trusted brands when it comes to tactical boots. Although the materials used are firm, these boots guarantee lightweight comfort to your feet. It even has a steel shank to support your heels and arches. For improved breathability features, Smith and Wesson's tactical boots are padded with foam collars.
Convenience and Safety Features
Aside from comfort, Smith and Wesson Breach 2.0 maximizes grip and traction with the help of its chunky lugs. You'll appreciate its rubber outsoles that are engineered to deliver only the best traction on your boots and various surfaces. It also has a side zip for more convenient use.
Maintenance
Cleaning Smith and Wesson tactical boots is a no-brainer. Like its competitors, you'll only need a soft brush, mild soap, and warm water to remove dirt and greases from each boot. Be careful not to try these boots under the sun. Air dry completely before wearing them again.
Pros
Has EVA midsoles for cradled support

Provides reliable and non-marking rubber outsoles

Features HydroGuard technology for more convenient boots
Cons
The side zip is vulnerable to damage