Best Work Boots for Flat Feet: Comfortable and Safety Footwear for Overpronation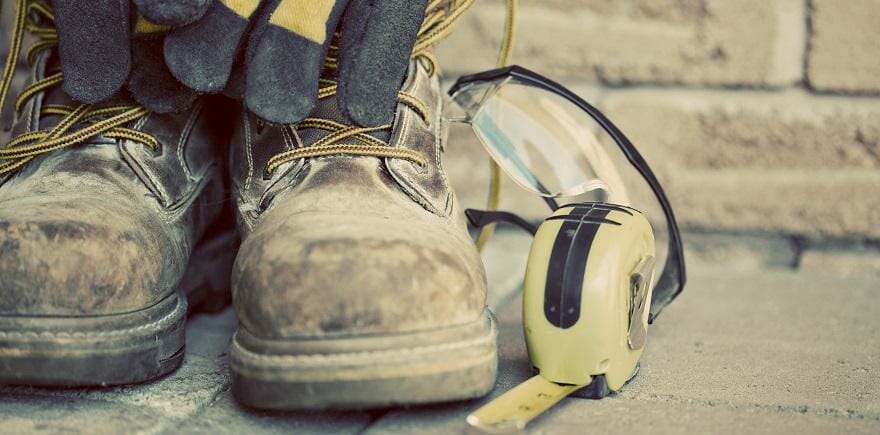 Looking for work boots isn't the same as finding the right pair of shoes to alleviate your foot pain, especially when you have flat feet. While many work boots manufacturers promise comfort and support, it's important to know how well they provide the features you need in reducing pains from overpronation.
But let's start with the basics. You should know what flat feet is and podiatrists-recommended treatments for fallen arches.
What is Flat Feet?
According to a journal article, a flat foot is an irreversible condition that is prevalent among adults 40 years of age and above. It's referred to as "common deformity" characterized by fallen arches, abducted forefoot, and everted calcaneus. You can easily identify this condition if your entire feet and soles touch the ground when you stand or walk.
There are several reasons why you're suffering from flat feet. First, it might be an inborn condition. Yet, the most common reason for flat feet presence is standing for extended periods on hard surfaces –often causing big problems if you're working in a high-risk environment. Other causes of fallen arches include:
Aging
Arthritis
Obesity
Muscle diseases
Bone or tendon injuries
High blood pressure
Stress fractures
How Can Flat Feet Affect Your Health?
Having flat feet isn't a serious problem. But keep in mind that flat feet can affect your overall health because you're likely to experience foot pains from this condition. Aside from foot pain, you might encounter plantar fasciitis. It's a common heel and foot condition when your weakened arches cannot support your weight, which may cause overpronation.
Overpronation means that your feet arches are flattened due to weakened support. As you continue to experience overpronation without any treatment, you're more exposed to developing high-risk injuries.
It's also revealed that people suffering from flat feet are more likely to have ankle instability and sprain. Flattening arches results in strains and pains, especially on your foot muscles, ligaments, and tendons. Other injuries involve:
Sprains
Shin splints
Achilles tendonitis
Heel pains spurs
Plantar fasciitis
Bunions
Lower back pain
Ligament inflammation
Treatments for Flat Feet
You may need to see a podiatrist if you're suffering from discomfort and pains elsewhere in the body if you have flat feet. Although this condition is irreversible, there are solutions to treat flat feet. Thus, preventing any pains that could stem from it:
Medications. Doctors typically recommend getting over the counter medications, like the well-known aspirin or ibuprofen.
Herbal remedies. Aside from medicines, you could try herbal remedies to reduce pains from flat feet. Examples of remedies you can use are the valerian root and ginseng.
Physical exercises. There's no other way to treat your foot pains than foot exercises. Simple yoga or meditation can do the trick. These physical activities help improve blood circulation in your feet.
Arch-support technology boots. If nothing else from the list works, you may need to buy a pair of work boots that feature an arch-support program designed to provide support and comfort to your fallen arches.
Benefits of Work Boots for Your Flat Feet
Wearing the best work boots for flat feet is considered by podiatrists a significant solution in addressing your weakened arches. Here are the benefits of getting one:
Supports your flat arches and keeps your feet still and safe
Reduces your foot pains and chances of injuries
Distributes your weight on the feet evenly
Absorbs shocks from stepping on concrete floors
Restricts repetitive strains and sprains
Things You Need to Consider When Buying Work Boots for Flat Feet
Choosing the best work boots for flat feet is challenging. Any individual suffering from overpronation should take extra measures when selecting a boot, most notably when your work requires repetitive foot strikes.
Even if you're using great pairs of insert soles in your shoes to improve comfort and support, nothing can beat a work boot that's specially designed with features for bracing fallen arches. We suggest at least three of the following attributes before buying one.
Arch support. Work boots are made to keep your feet comfortable when doing repetitive foot tasks. Moreover, the arch support system is a primary requirement if you have flat feet or weakened arches.
Slip and oil-resistant. Rubber soles play important roles in providing enough traction on your boots when walking on slippery or wet surfaces. Work boots having a slip-resistant feature provides an additional safety measure while working in high-risk environments.
Cushion. Work boots that contain an inner mesh lining help prevent odor, plus it gives a breathable experience for your feet.
Shock absorption. When looking for a pair of boots, it's critical to check if it embeds a shock-absorbent material that improves your feet's flexibility and reduces your weight's pressure.
Durability and breathability. Aside from safety, you must consider your work boots' durability and breathability, especially when wearing them for longer hours. The quality of materials reflects how long your work boot can withstand wear and tear.
Motion control. Flat foot is a condition often associated with overpronation. The motion control system is designed to keep feet away from overpronation.
Roll Bars and shanks. Work boots are characterized by their roll bars and shanks, which braces the feet in place and distributes your weight respectively.
Contoured insoles. Wearers are unique; thus, make sure your work boots aren't using generic insert soles.
Best Work Boots that Every Podiatrist Recommends for Flat Feet
You'll definitely feel the pain when working for extended hours with flat feet. Aside from it being painful, you'll be frustrated with the quality of work you may produce because of heel pains. Fortunately, you've made it this far. In this section, we'll get to know the best work boots for flat feet available for those who are suffering from the condition.
1. Wolverine Buccaneer Work Boots – Best Overall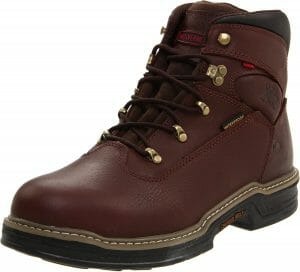 The best work boots for flat feet is the Wolverine Men's Buccaneer work boots. Take note that this isn't your ordinary boots; it's designed to keep your flat feet comfortable and flexible even when walking, standing, or running for long hours. You'll not be disappointed with Wolverine's work boots, as their pairs are constructed with premium and high-quality materials that last a lifetime. These boots aren't only great for home use but also best for work operations. The bonus part? Wolverine offers a 30-day money-back guarantee to test their work boot pairs and ensure you're satisfied with its comfort and durability. It provides all the features you need if you're suffering from fallen arches.
Key features:
Water-resistant

Goodyear welt construction

Mesh lining

Oil and slip-resistant

Sturdy rubber sole

Electrical hazard-rated
Design and Materials
Wolverine Men's Buccaneer Work Boots are made with 100% USA leather, allowing comfort even in the most severe weather conditions. These boots' outsoles are slip-resistant, giving stability and balance during wet conditions. Although a little heavier compared to other brands, it ensures a sturdy rubber sole (which is lifted in the center) to give your weakened arches the support it needs. 
Comfort and Breathability
Aside from design and materials, you'll appreciate Wolverine's comfort and breathability –thanks to its Goodyear welt construction. This particular product accentuates soft toe kicks, padded collar, and wave mesh lining for full-cushioned footbeds. It can even withstand occasions when you accidentally submerged your work boots into water. Keep your feet dry all day with the help of these excellent work boots.
Convenience and Safety Features
Walking or running with flat feet isn't challenging anymore with the help of Wolverine Buccaneer work boots. It consists of a rubber outsole for the best comfort and safety you'll likely experience while working. The company boasts its flexible contour welt that allows your feet to become more flexible with every step. Another perk: it's EH-rated!
Maintenance
Caring for your leather Wolverine work boots would just be a piece of cake. Remove the laces first and use a damp cloth to wipe off the dirt from your boots. A light brush can do the trick too. To maintain its natural oils, adding a drop of conditioner or polisher is advised.
Pros
Provides comfort all day long

Guarantees welt construction

Contains flexible contour

Gives premium traction and protection
Cons
Only one color available (dark brown)

Squeaking sound, if new
2. Carhartt Composite Toe Work Boots – Best Quality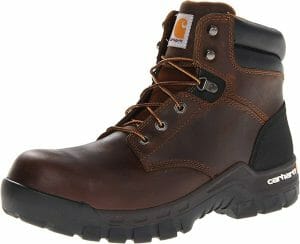 You could never go wrong with Carhartt Composite boots. The company is best known for its work-force footwear and gears. The versatile materials used to create composite toe work boots provide the support and comfort you need for weakened and fallen arches. If you're suffering from overpronation, adding Carhartt work boots is an ideal solution to keep your foot from swelling. Likewise, nothing can beat these boots' motion control technology and Achilles flex joint for added comfort. A very wise purchase for great support and balance for your flat feet.
Key features:
Unique rugged flex technology

Achilles flex joint and motion control

Electrical hazard-rated

Full EVA insert with steel shank

Dual-density footbed

Abrasion-resistant
Design and Materials
Comfortable and lightweight materials make Carhartt one of the best work boots for flat feet. The company manufactures quality work footwear perfect for any environment. These pairs work best if you're a worker exposed to high-risk environments, such as conditions that involve electricity, scaffolding and ladders, and heavy-duty construction sites. This is a good investment that lasts longer than your ordinary work boots.
Comfort and Breathability
Carhartt's pair of work boots implement a shock-absorbing traction feature perfect for both indoor or outdoor activities. Its rugged flex technology is designed with additional polyurethane layers that provide the best and maximum cushion bed you'll need to ease the pain with flat feet. Moreover, the work boots' soles are lifted at the center, a great indicator that your fallen arches will be taken care of. The light EVA midsole of these work boots gives you a cloud-like feeling in every step you make.
Convenience and Safety Features
It's made with versatile materials perfect for safety toe work boots and has a motion control that protects your feet from hazardous and compression impacts. It encompasses a padded tongue and inner walls to keep your feet dry and comfortable while working for longer hours. The shoe room is bigger, which increases comfort to your feet.
Maintenance
Leather boots last longer if you're giving proper care to them. Any stain needs to be removed quickly before it becomes permanent on your Carhartt work boots. Soft brushes and a damp cloth can help you clean your leather boots without sweating at all.
Pros
Meets ASTM EH standards for toe safety

Provides an excellent arch support

Keeps your feet lightweight

Protects feet from heavy-duty activities
Cons
Isn't waterproof

Produces a squeaking sound
3. Timberland Pro Men's Soft Toe Boot – Best for Men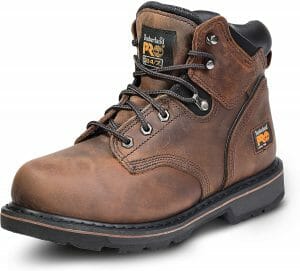 Another best work boots for flat feet is the Timberland Pro Men steel-toe work boots. Ideally, it's a do-it-all soft toe boot designed for men. Aside from meeting the American National Standards Institute's safety standards, Timberland Pro Men boot pairs are made with high-quality textiles and materials that make them more durable, comfortable, and convenient to wear, even when walking or standing for extended periods. Not only do these boots accommodate flat feet, but they're also excellent footwear if you have wider feet. What's more interesting in these boots is that they're lightweight, but it provides a pliant plastic midsole for supporting fallen arches.
Key features:
Water-resistant boots

Cambrelle fabric linings

Goodyear welt construction

Polyurethane midsoles

Nylon shock-absorption and aggressive traction
Design and Materials
Made with a 100% leather material, Timberland Pro Men safety toe boots come with a 6-inch oiled and full-grain leather footbed that is removable. It's constructed with waterproof materials, a padded collar, and a matching lace-up shaft that gives a comfortable feeling when worn. Timberland produces their steel toe boot pairs with aggravated activities in mind, giving the best protection needed for rigorous work site demands all day long.
Comfort and Breathability
Buying these pairs of work boots isn't only a wise decision but also a great investment. They'll provide you with the premium support you need for your arch area. The fit is perfect as well, which is Timberland's edge against its contenders in the market. It's also warm because of the insulating material combined with antimicrobial treatment in the footbed. You'll get a cozy feeling with these work boots
Convenience and Safety Features
Apart from durability, Timberland produces boots with an aggressive traction technology embedded in its rubber sole for full support and comfort. The work boot is oil-resistant as well, creating a good grip on different surfaces anywhere you walk. Further, Timberland's work boots for flat feet have nylon shock-diffusion plates that support your foot's weight and pressure where it's most needed. 
Maintenance
Cleaning your Timberland pro men work boots is a little tricky than its competitors. You'll need a waterproofing spray that best works with leather material and a boot brush. Remove the shoelaces first before deep cleaning the whole boot. Polish sides where it needs to be cleaned and wash laces separately.
Pros
Keeps feet from fatigue

Contains an antimicrobial material that prevent odor

Has a traction-grip good for working in wet floors or surfaces

Meets ANSI safety standards
4. Timberland Women's Pro Titan Work Boots – Best for Women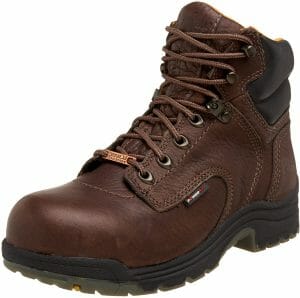 Who says women can't participate in any hard work? Timberland company ensures all workers are protected with their Pro Titan boots designed for women. It's the best boots for flat feet, symbolizing integrity at work for women. This pair of work boots are waterproof and made with high-quality materials that protect women's feet in any circumstances. Timberland's Pro Titan work boots for women with fallen arches are part of their safety-toe boots series. Thus, promising quality, safety, and flexibility fit into a woman's foot.
Key features:
Power-fit comfort system

Lightweight and durable protection

Rugged slip-resistant outsoles

Antimicrobial linings

Full-grain leather uppers
Design and Materials
Timberland guarantees you a durable work boot for a reasonable price with these Pro Titan work boots. It's ergonomically designed to provide the support you need regardless of how critical your work is. Nevertheless, this work boot is elegant and stylish at every angle. Plus, it accentuates safety toe features for long-lasting comfort.
Comfort and Breathability
You'll never have to worry about stubbing your toes on the steel toe of your shoes. Timberland's Pro Titan for women with flat feet has nice arch support technology and a good amount of cushiness on its footbed. Additionally, this pair of boots is designed to help you with improved job performance, even in the most demanding workloads.
Convenience and Safety Features
What you'll like the most about this soft toe work boot are its antimicrobial linkings and full-grain leather construction. These materials provide the most convenient and safe fit comfort system so you can stand on your feet for longer durations. Keep in mind that Timberland evaluates work boots' safety; thus delivering ultimate comfort and durability for women with flat feet,
Maintenance
Same with men's leather work boots, Timberland boots for women need to be cleaned to maintain their durability. The soft brush does the work of cleaning dirt away from the leather shoes and a damp cloth for additional polish.
Pros
Guarantees toe protection for women

Ensures extreme comfort and durability

Provides stylish look for women

Has a comfortable fit system
Cons
Ankle linings are thick, can cause tension on the ankle
5. Caterpillar Diagnostic Work Boots – Best Value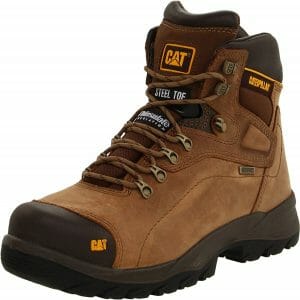 We're pretty sure you're looking for the best work boot that comes inexpensive compared to its competitors. Behold these Caterpillar Men boots designed specifically with budget-restricted customers in mind. The steel toe work boot comes with the durability, convenience, and stability you need when working or handling heavy-duty activities. Besides, the Caterpillar company meets the American Society for Testing and Material's principles when it comes to a boot's impact and compression features and safety standards. You'll get an enhanced job performance with this boot's comfort, insulation attribute, and removable EVA insoles. Further, their boots are ergonomically manufactured that supports your feet's movement and flexibility.
Key features:
Removable EVA foam insert with gel technology

Rubber outsole

Waterproof

Insulated work boot

Waterproof leather

Lacing hardware
Design and Materials
These pairs of boots are a leather-all type designed to give an elegant yet protective look to your feet. It's padded with a 6-inch shaft to give additional support to flat feet or overpronation needs. Moreover, it incorporates an ergonomic technology on the boot's interior component, giving the best grip and fit your foot.
Comfort and Breathability
Caterpillar Men's Diagnostic boots are recognizable for their rounded steel toe and a rubber outsole that keeps your feet steady even when walking on wet or slippery surfaces. Besides, Caterpillar company adds insulation that keeps feet warm and dry when working in cool-temperate environments. It contains soft and comfortable toe support that gives a mushy experience whenever you're working.
Convenience and Safety Features
This waterproof boot can support your arch area and flat feet in the long run. These boots are made with high-quality materials, electrical-hazard approved for defense, a steel toe for extra durability, and a non-slip outsole for 24-hour foot protection.
Maintenance
The Caterpillar company gives guidelines for cleaning their footwear. For boots, you need to brush surface dirt from the leather regularly. You may wash your boot with soap and warm water. In drying these boots, make sure to open the boot fully, remove insoles and laces, and dry at room temperature. Never expose it to heat to prolong its durability.
Pros
Provides more thickness than contenders

Has excellent heel and arch area support

Gives a warm and dry feeling when worn
Cons
Loses waterproof element after a couple of months
6. Keen Utility Flint Low Steel Toe
Last but not the least, Keen Utility Flint Low is among the best work boots for flat feet workers. This boot provides the comfort and support you need for overpronation caused by weakened arches. Plus, it's decorated with breathable leather and mesh inserts to keep proper airflow and ventilation inside. This Flint Low toe boot keeps feet steady through its traction-grip feature, which will save you from unwanted slips. Nonetheless, the boot encompasses a dual-density midsole, offering a cloud-like cushion experience every single time you step on your feet. You'll also love the boot's patent toe protection, functional design, and creative shape.
Key features:
Dual-density midsole

Ankle-cut work boot

Rubber outsoles

Ventilation system

Asymmetrical steel toe

Contoured heel lock
Design and Materials
Like its competitors, Keen Utility guarantees customers premium materials that keep toes safe from accidents. It's innovative design and shape delivers a more natural and comfortable fit in your heels, arches, and toes. Unlike other boots, this boot is asymmetrical in shape that makes it a one-of-a-kind shoe you can wear at work.
Comfort and Breathability
Keen Utility keeps feet dry and warm regardless of the weather, but not designed for extremely cold environments. Yet, the boot offers premium arch area support especially when you're suffering from flat feet. Its patented technology covers and protects your feet entirely. It also contains a removable dual-density footbed to give your heels maximum support for distributing weight and pressure evenly on the foot.
Convenience and Safety Features
Those who aren't a fan of tall boots would appreciate Keen's boots. Since it's comparatively smaller than contenders, you'll get a more lightweight protection and foot movement freedom. In terms of convenience, it contains a contoured heel lock that maintains your feet's balance and stability when wearing them for extended periods. Likewise, you'll enjoy its arch support technology and long-lasting cushion experience.
Maintenance
Keen footwear company recommends cleaning your boots with mild soap and cold water. When removing excess dirt, a stiff brush or soft cloth is required to wipe them off. After cleaning, let the boot air dry without heat.
Pros
Encompasses slip and oil-resistant features

Has a contoured heel lock for motion control

Contains metatomical footbed for flat feet wearers

Delivers a unique work shoe experience
Cons
Not durable as contenders

Only suited for indoor work